We Are A Powerful Champion For The Injured
The legal system should protect the injured and vulnerable. It should not serve to blindly protect those in power. As your lawyers, the team at RJS Law stands up for you and ensures insurance companies and the courts treat you justly. We are passionate advocates and experienced legal professionals who are prepared to represent you.
Each of our attorneys cares deeply about our mission and contributes to our success in unique ways. Learn more about them below:
We do not stand by while insurance companies or employers mistreat you. We fight for what is right.
Achieving Your Best Outcomes Is A Collaborative Effort
Our firm works as a team and is genuinely dedicated to achieving the best resolution possible. Our job is to help you get back on your feet and focus on your recovery process. We provide you with complete and extensive legal care. This includes in the case of catastrophic injuries resulting from car crashes, improper medical care and other life-altering events.
Based in Wyoming, Michigan, our firm also works together to ensure you have a full range of resources as you age. Our experienced and thorough estate planning attorneys care about your future and your loved ones.
Are You Ready To Work With Us?
At RJS Law, we are more than prepared; we are eager to hear from you. For a creative and enthusiastic legal team, come into our office today. You can schedule your consultation by emailing our firm or by calling us at 616-532-1666.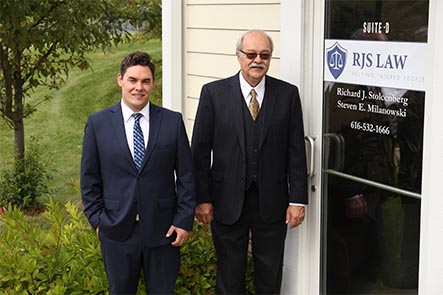 Get Detail-Oriented Legal Care

YOU HAVE FOUND A PARTNER IN THE LAW
5102 Byron Center Avenue SW
Suite D
Wyoming, MI 49519
Phone: 616-532-1666
Fax: 616-538-4580
© 2021 RJS Law. All Rights Reserved.